No Safe Space
On gender-based violence, spatial inequality, and Airbnb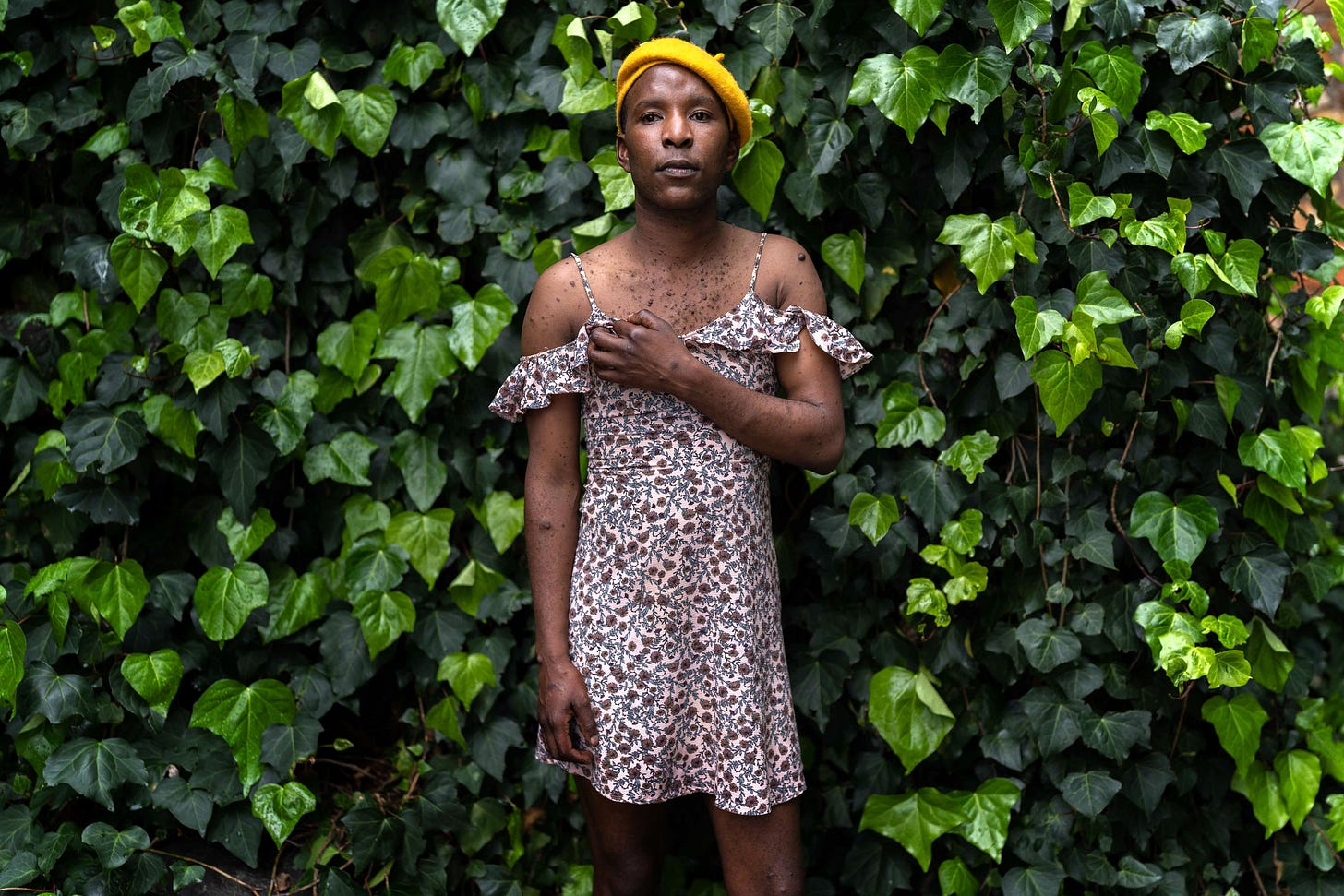 Desperate to find security amid the rising tide of violence against queer people in Cape Town, a group of activists decided to try something new last month. The black queer collective 'We See You' pooled their resources to rent a luxury mansion listed on Airbnb in the exclusive Camps Bay neighborhood. Since their stay officially ended in late September, they haven't left. 
The collective is staging an occupation to protest Cape Town's spatial inequalities and violence against queer individuals and communities across South Africa, especially those who identify as transgender. The crisis has reached epidemic proportions with the economic fallout from the Covid-19 pandemic.
Gender-based violence and transphobia is a national emergency in South Africa. According to Women for Change, 40 percent of South African women will be raped in their lifetime. The South African Police recorded 41,583 rapes in 2018-19, which translates to an average of 114 rapes recorded every day with many more going unreported. Despite these horrifying statistics, less than 7 percent of rape perpetrators are convicted. According to the OUT, 14% of Gauteng (Johannesburg) residents support violence against gay and lesbian people. That stat is from 2016, and the support seems to have only grown.
Many of the We See You activists face rejection at home. Lethabo Hanong, a non-binary transgender woman, pictured above, recounted her story to New Frame magazine from the Camps Bay mansion (seen below). After she began hormone replacement therapy, her family in Cape Town's Khayelitsha township threw her out to the street. 
"My mother was okay with it at first, until my brother found out," Hanong says. "He said my mother must do something about it, and if she doesn't, he will stop giving my mother money. Eventually, she took his side because my brother is the one who brings income into the house, and I was unemployed, so…" Hanong found refuge in a rented home shared by two collective members. They have since transformed the space into a makeshift shelter for women and queer people left in the cold by the Covid-19 pandemic.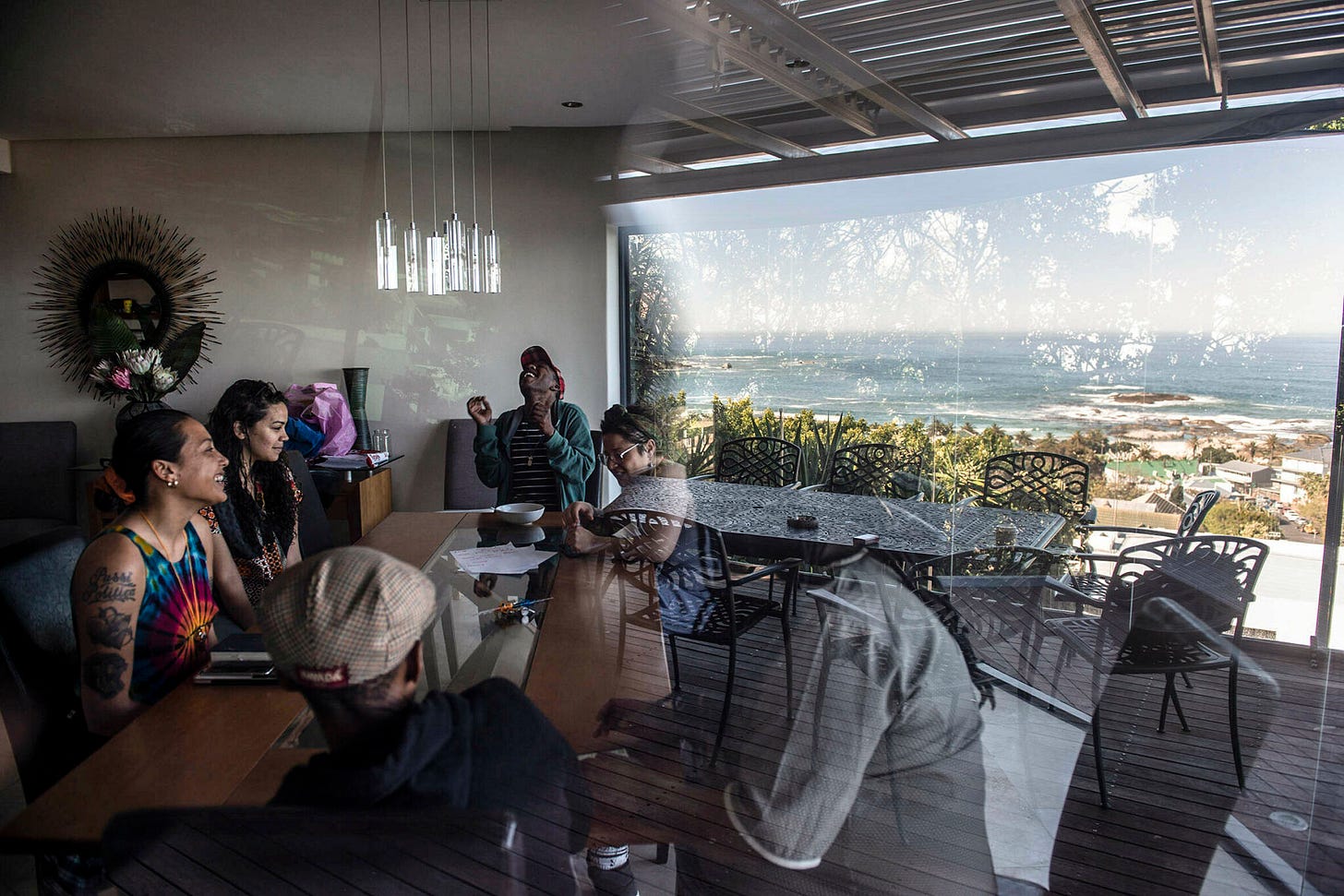 Out of sight, out of mind
The Camps Bay protest is notable because it marries gender-based violence with the ongoing challenge of spatial apartheid in Cape Town. Land occupations and informal settlements are nothing new in the city, but they generally are kept far away from exclusive neighborhoods like Camps Bay. Informal settlements are the fastest-growing household sector in South African cities, but you would never know that as a resident of Camps Bay or any surrounding neighborhood. You certainly won't see this side of the town while looking for accommodation on Airbnb. 
The initial reaction to the We See You protest was centered on Airbnb and the broad contours of spatial apartheid in Cape Town rather than gender-based violence. The activists succeeded in (temporarily) breaking through the invisible barriers that separate the reality of Cape Town from the idyllic wealthy bubble of neighborhoods like Camps Bay. 
"From a geographical perspective, protest demonstrates the power to articulate mobility." Bradley Rink, a senior lecturer at the University of the Western Cape who specializes in mobility, cities, and urban identities, told New Frame. "By occupying a property in an exclusive suburb of Cape Town, the occupiers have immobilized others by mobilizing themselves. They have usurped a 21st-century laager of privilege to make their point. Whether you agree with them or not, their point has been made clearly." 
I have overheard conversations about the protest that are reminiscent of the 2013 film Elysium. In the near-future dystopian film (unsurprisingly directed by a South African), the wealthy have moved to an idyllic planet-like space ship in Earth's orbit. While they live a life of luxury, the masses are left to toil on Earth, which has become a wretched hellscape of raw commodity extraction. Eventually, the masses break free and invade the wealthy enclave.
Will this change anything? 
Airbnb refused to support the protesters saying that it was committed to facilitating trust between guests and owners. While Airbnb's stance is hardly shocking, the response of local politicians and other NGOs has been more problematic. The Democratic Alliance, South Africa's main opposition party that controls the Western Cape and Cape Town, rejected the protest in the most forceful terms. 
The DA's Metro LGBTQUIA+ committee went so far as to say that Airbnb owners could be the real victims, noting "it is disingenuous that the group has chosen to put their interests above those of the thousands of workers employed in the Airbnb industry. It is surely foreseeable that homeowners will no longer offer their houses to-let as Airbnb tourist venue if this can result in illegal occupation." 
While the DA's response has been predictable based on its contempt for any action that challenges the status quo in Cape Town, the story has fallen out of the local news cycle. The activists have been served eviction notices and sooner or later will be removed from the house. Yet the issues they're fighting for will remain neglected.
This is a protest full of theatrics and performance, but maybe that's what's needed to jolt the mainstream. The creativity and intersectionality of the protest could mark a new chapter in direct actions that challenge the heart of the status quo. Until that happens, nothing will break the cycle of violence.
---
Some things I read recently
---
A final thought
"The cradle rocks above an abyss, and common sense tells us that our existence is but a brief crack of light between two eternities of darkness." - Vladimir Nabokov, Speak, Memory
---